Another option which is a bit outside the usual concept of a touring bicycle is to use an Xtracycle FreeRadical bolt-on kit mated to a Surly Trucker Deluxe frame (S&S connectors are a standard feature on this frame) with a Surly Troll front fork (will accept up to 2.75″ tires and has all the bosses needed).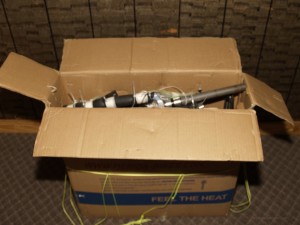 The Xtracycle FreeRadical will accept tires up to 2.5″ so this combination of Xtracycle/Troll Fork works well together.  You get the added bonus of not having to send your frame off to get the connectors retrofitted. The Trucker Deluxe is based on the tried and true LHT (Long Haul Trucker) frame only with factory installed S&S connectors for transporting the bike by air, rail or bus without incurring extra shipping expenses. This feature is even more needed if you plan on using an Xtracycle build. An Xtracycle/Trucker Deluxe can be broken down to fit inside a standard airline bicycle box which can usually be put under a bus or on a train for no additional fee. Those with more time and wrenching expertise can break one down to fit into two checked bag sized boxes to fly as standard luggage.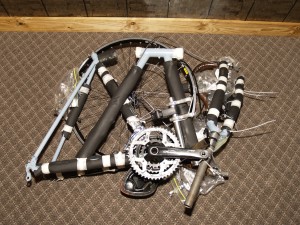 This build has the added bonus of both V-brake bosses and disc brake caliper mounts on the Xtracycle frame as well as on the Troll fork so you have plenty of back-up options if you choose to run discs.
The photo on the top right is a complete Surly Trucker Deluxe squeezed into a 29″x26″x7″ shipping box.  To the left it is shown lifted out of the box still zip tied together.
In the next few articles, I will outline the steps needed to build a quality fully loaded survival touring bike.  This is just how I would do it based on lessons learned in the past 8000 miles of long distance touring.  It is definitely not the only way to build a bike and It may not be for everybody.
---
---