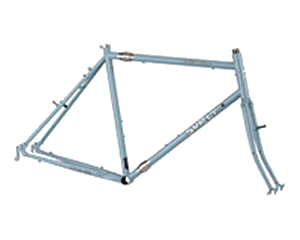 I began my survival touring build with a Surly Trucker Deluxe frameset.  The reason for this choice is threefold. This frame comes standard with pre-installed  S&S couplers to enable the finished bike to be split in half for transportation.  The Trucker Deluxe is a Surly Long Haul Trucker with 26″ wheels and cantilever or V brakes.  This platform has been used thousands of times for long distance fully loaded touring and has past the test of time for strength and functionality.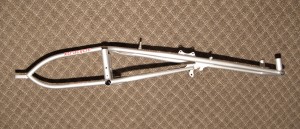 Mated to the Surly frame is an Xtracycle FreeRadical longtail kit. This essentially adds 18″ to the overall length of the bicycle while allowing attachment of a wide variety of accessories.  The FreeRadical lowers the center of gravity of a touring load and distributes the weight over a longer area which translates into a smoother more stable ride.  The FreeRadical has a mounting bracket for a disc brake caliper as well as posts for V brakes so this allows both options. Because the weight of a fully loaded touring bike can be difficult to slow on downhills, I have opted for disc brakes on the rear.  I will keep the V brake posts in reserve for emergency repairs.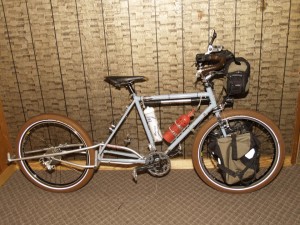 For this reason I have constructed my rear wheel with Mavic 721 machined rims with a Shimano XT M756A 36 hole disc hub.  The machined rim is for my optional rim brake, the disc hub is for the mechanical disc brake. I will use an Avid BB7 160mm Mountain Bike disc caliper with a Shimano 203 rotor.  The Xtracycle FreeRadical frames are setup for this combination of parts.  For the crank and chain rings I have chosen a Shimano Deore M591 170mm 48/36/26 with bottom bracket.  This mated to the Shimano HG-50 9-speed cassette (11-13-15-17-20-23-26-30-34t) will give me the range of gear combinations needed for pulling a heavy load through hilly terrain.  For my chain I'm using two SRAM PC-971 sized for the long chain run of the Xtracycle.  This comprises the basic drivetrain of my touring bike. Now let's move on to the front end. The stock Long Haul Trucker fork will accept up to a 2.1″ tire which may be plenty wide for most road tours but I want a bit more rubber for off-road conditions and also to add some cushion to a heavy ride. The Surly Troll fork accepts up to a 2.75″ tire and has the added bonus of both mounting bracket for disc brakes and V-brake posts.  It also has bosses for a variety of racks and fenders.  I chose one of these for the build.  The front wheel was assembled using a Son28 dynohub laced to a Mavic 721 machined rim 36 hole with Wheelsmith double butted 14 gauge spokes.  The dynohub powers the headlight and taillight as well as supplying power to charge an Ipad, cellular phones and a Garmin through an E-Werk converter.
For a handlebar I will use my favorite Nitto mustache which has been radically modified to add more hand positions and dashboard space. You can read more details about these mods in another post.
While touring in Southern California I stopped into a San Diego bike shop and purchased a front rack which has served me well.  The Salsa Down Under rack has a very low-rider position which attaches at the mid-point braze-ons and lower carrier eyelets at the dropouts.  I really like this rack because it keeps the center of gravity low and also has no connecting hoop between the two side racks. This means it casts no shadow when using your headlight.  The solid attachment points are very stiff and handle up to a 20lb load with no vibration. Paired up with the Xtracycle P-racks and Ortlieb panniers or the Xtracycle X2 Saddlebags on the back, this gives you a very stable ride even when fully loaded.  The weight capacity of this bicycle is 250lbs without the rider.  I recommend a comfortable every day touring weight of between 60 and 100 pounds depending on the distance between resupply points on your trip.