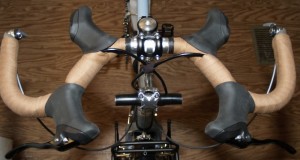 These are my Nitto Mustache Handlebars fully modified. I cut and filed an extra set of Tektro brakes and hoods to use for an alternate hand position, put a padded leather automobile steering wheel cover over the bar, taped the brake cables down and wrapped the finished bars in brown cloth velox bar tape.
Not for everyone but they work for me. 🙂
Update:  Before leaving on the Southern Tier tour I applied four coats of shellac to these bars and they held up beautifully.