April 29, 2014 5:30am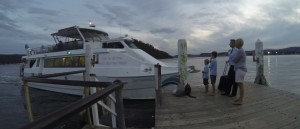 I awoke to beautiful blue skies and quickly broke camp. I started to follow my previous plan but another cyclist came by and suggested I take the scenic beach route. I asked him how do I get back to the highway after cycling down the peninsula and he told me there was a series of ferries. So I took off for Woy Woy. It took me most of the day to cycle the 55k to the ferry dock and then I waited until 5:30 for the arrival of the last ferry of the day.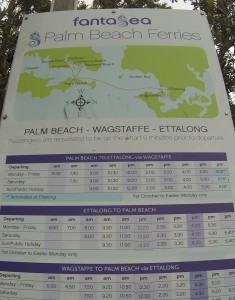 The fare was $11.60 but they gave me the senior concession so I only had to pay $5.60. When we arrived in Palm Beach it was after dark and I was informed that the nearest caravan park was over 20k down the road. I took off cycling down the rough shoulder in the dark with only my headlamp for illumination. My bike headlight burned out a few days ago and without it even the taillight does not function. Around 10:00pm I pulled into a Big4 caravan park with dread. This was the only camping in this swanky town and the Big4 was the outfit that wanted $60 per night the last time I had checked  one. The office was closed but the security guard said he could check me in but not accept any money. I would need to come back in the morning to pay.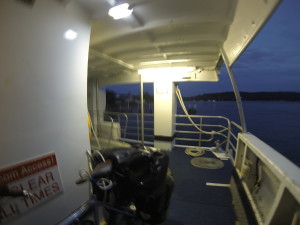 He told me the powered sites were $55 but he thought the unpowered sites were $46 and I probably could get a senior discount. It turned out that the senior discount only applies to Australians. I guess when you arrive on the continent, you get younger if you're a foreigner.  After arguing the point, the desk clerk went ahead and gave me the discount so the total came to $36 for the night.