April 26, 2014 9:00am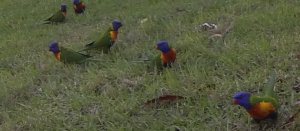 I biked up to Coles grocery store and Target this morning. Coles had a close out sale on dome tents and I couldn't resist buying one for only $9.00! I figure it can be used as a kitchen tent so I can stash the bike in the vestibule of the Terra Nova tent.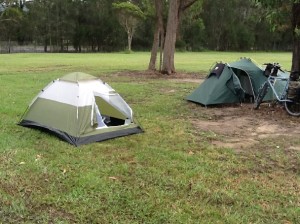 Here is a photo of the $9 tent all setup. It only weighs about one pound. I figure even if it breaks or starts leaking after two or three weeks, it was still worth the price.  I then went to Target and found a pair of dark blue shorts  that had originally been $35 on sale for $17 so I scored again and now can get out of my filthy white shorts. Australia prices include all sales taxes so what you see is what you get. The $17 shorts cost me exactly $17, not $18.97 like at Walmart in the states.
Just before nightfall a whole flock of Larakeets landed in front of the tent looking for food. They are bright green mini parrots with purple, yellow, blue and red markings on their heads. I got a lot of close ups with the GoPro but didn't have my IPad handy so, no photos yet. Australia has lots of exotic birds and also giant lizards like the monitor they call guannas or something like that. One was walking up the middle of the road at Violet Hill and it looked like a really fast athletic crocodile. I'm told not to toy with these guys. They are quick and can be lethal when provoked. Touring Oz ( what the locals call Australia) is like wandering around in a zoo after hours with a box of chocolates. You never know what you're going to get.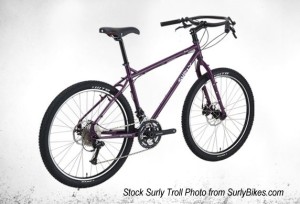 I went to McDonalds and did some research on ultimate world touring bikes. I think the Surly troll with S&S connectors and Rohloff14 speed internal belt driven hub, mechanical disc brakes, Son28 dynohub front wheel, jones multi-position mountain bike handlebars, Surly front and rear racks and Ortlieb panniers all around plus a saddle bag for tools, good pump and two water bottle cages would be the best bike for an extended world tour through all types of terrain. It can also be easily broken down for boxing without needing to re-tune derailers or adjust brake cables because the internal gears are almost maintenance free and out of the way when packing, same thing goes for the disc brakes. The only drawback for building bikes like these is the cost. Even figuring wholesale pricing on components and doing the assembling myself it looks like these bikes will cost $6000 each to construct. That includes custom powder coat paint jobs in colors of my choice. A lot of scratch but considering it may be the last bike I would ever need to buy, it could be looked apon as a bargain. Well that's how my Saturday went. Good night.