April 22, 2014 7:00pm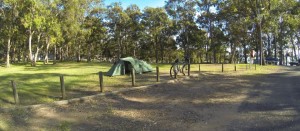 No luck calling the guys in Israel today. I only got a message in Hebrew. It probably said I'm sorry but the number you have dialed is out of range etc. etc. Around noon I cycled into the outskirts of Newcastle and found a McDonalds with OK WiFi. There were about ten emails from Luc & Will. I spent about an hour answering the emails and then moved on toward Sydney. The signs told me I was only 140k from the Sydney city limits but suddenly the highway started showing (no bicycle) signs again. There were quite a few highways that prohibited bikes around Brisbane so it took me two days to clear that city. Now I have a similar problem with Sydney. I turned off the highway and headed for Toronto on side roads. This path will add at least another 200k to the trip but I have time to burn anyway.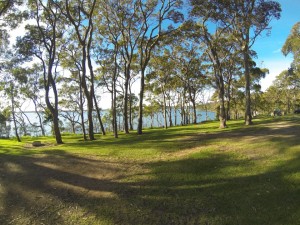 From Toronto I headed down to Wangi Wangi point to the only caravan park in the vicinity. This place is very beautiful but it is spendy. In the morning the plan is to work my way around Lake Macquarie and over to highway 111 which will take me to Freeman's camping area in the state park. Hopefully the fees are small and I can stay for a few days there. A lot of the state parks have $5 per person fees but we shall see.
These back roads have steep hills and wind through countless residential areas. They are hard to navigate and a lot of the roads end up being dead ends. There are not a lot of directional signs. I would be frustrated if I had to be somewhere at a specific time but I'm just enjoying the scenery and taking my time going nowhere.