Having Short Bicycle Adventures While Testing Out New Trail Gear

Grant Peterson of Rivendell Bicycle Works coined the phrase "S24O" or "Sub 24 Hour Overnight" several years ago to describe a short bike camping sortie which could be experienced by any person who did not have the time for a long bicycle tour. These short trips to local State or National parks with a one night camp and then a return home allow a bike packer to "fine tune" his or her kit. Trying out new gear or trail recipes on an S24O is similar to making trial runs. If something doesn't work, you modify the item or technique for the long haul trip. S24O's also keep you in shape both mentally and physically. I've been experimenting with a new modular light weight shelter system for stealth camping so I figured an S24O was just the ticket to test out the new gear.
This new system is based around the Ionosphere by Snugpak. The Ionosphere is a one person tent which is slightly larger than a bivy but still has ample room to move around and perform basic tasks like snacking, map reading and getting dressed while laying down. The Ionosphere stands a scant 28″ at it's highest point so this tent works well for stealth camping concealment applications. The tent comes in one of two colors, Coyote Tan (shown in photos) and Olive Green, which are both good camouflage colors.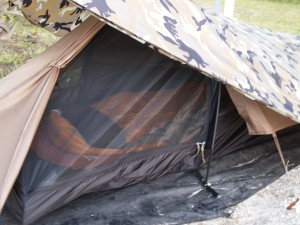 The Snugpak Ionosphere is packaged with a screen tent, rain fly cover, two collapsible aluminum poles and 14 small aluminum stakes. All of this fits in a supplied stuff sack which measures about 5″ x 15″ when packed up and weighs 3.35 pounds (1.52 Kilograms). I have added a few items to this tent to enhance it's usability in every type of terrain from steaming rain forests to barren deserts. The first item is a good quality waterproof ground cloth made from silnylon with ample tie-out loops. The second item is a 9'x10′ camouflaged rip-stop nylon diamond tarp which also is used as part of my modular hammock setup when need arises. And the third item is an additional collapsible aluminum pole to elevate one corner of the tarp to allow a cooking space when weather turns wet.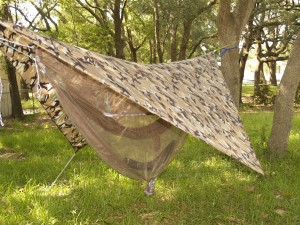 The entire shelter outfit including Ionosphere tent, ground cloth, camo tarp, hammock, hammock mosquito netting, tree straps and whoopie slings plus my sleeping pad, down sleeping bag and microfiber liner weighs a total of 12 pounds. Aside from my cooking gear and water purification, this is all I need to live comfortably anywhere I roam. Of course on S24O's, a lot of the extra bits & pieces can be left at home to save on weight but for a long dedicated tour this system works better than anything I have tried in the past. With this system I can camp over a giant boulder strewn canyon wall in a hail storm using the hammock & tarp, I can camp on the open sand dunes using the Ionosphere inner screen tent, tarp & pole, I can camp in a humid mosquito filled jungle using the hammock & netting or I can camp in the snow using the ground cloth, Ionosphere inner tent, rain fly and tarp pitched low & tight. In wet weather the tarp can be pitched as a lean-to with the Ionosphere to the back wall to make room for gear storage and cooking. Gear selection is a constant struggle between level of comfort and amount of weight carried. It is often difficult and expensive to re-supply while on tour so I try to be prepared for all conditions which may occur. This outfit, although not the lightest weight option available, is IMHO the most versatile. It keeps me warm & dry, is easily concealed in low bushes, sets up fairly quickly and is strong in high winds. The entire modular outfit packs down small enough to fit into a 21 liter Ortlieb rear pannier.