Eating healthy meals helps keep you strong!
I have noticed more and more the tendency for many backpacking and survival writers to use the term "gourmet" when referring to any meal cooked in the wild that does not involve the use of ramen noodles or expensive freeze dried pre-packaged foods. During my time spent in the Alaskan Bush I learned to cook high calorie, vitamin rich meals from "real" food and this was the accepted method. I never thought of myself as any sort of "gourmet" when I knocked out a pot of moose stew and homemade sour dough bread but nowadays this kind of meal is considered "exotic cuisine". Below is a list of the items I carry in my rolling galley. Many minimalists would argue that a kitchen this extensive is weight overkill, however my argument is in favor of cooking tasty, healthy meals.  Your body needs extra fuel when cycling those long distances and nothing beats a hot, nurishing meal at the end of the day. Tasty stews can be made from fresh, inexpensive ingredients found in most areas of the world. If this makes me a "gourmet", then so be it.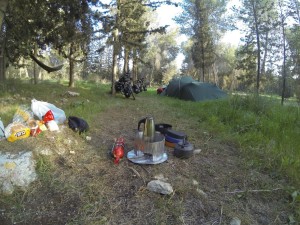 1. MSR Dragonfly Stove (runs on unleaded gas, diesel fuel, alcohol)
2. MSR Fuel Bottle 30oz capacity
3. 4″ Mini Skillet w/handle
4. Zebra Double Decker stainless steel "Lunch Pail" with lid
5. 1.1 liter Aluminum Tea Pot
6. Stanley 24oz stainless cooker with lid nesting 2 nylon coffee cups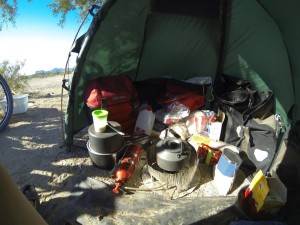 7. Small plastic cutting board
8. Tiny nylon spatula & slotted spoon
9. Nylon Spoon, Fork & Knife
10. Folding camp knife – stainless
11. Can opener
Eat well and enjoy this aspect of the ride.