April 25, 2014 5:00am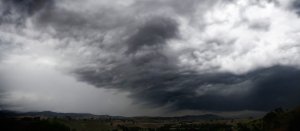 The rain I had been waiting for finally hit hard this morning and it makes me glad that I decided to sit out the next few days at the show ground. It would be terrible to be caught out in this downpour and even worse to be subjected to the sort of prices I've been seeing at most of the private caravan parks. This morning I am snug in my sleeping bag listening to the rain hammer down on the tent with thunder in the distance. The plan is to stay put for a few days until the storm blows over and while waiting, receive a Western Union money gram from Luc & Will. This will consolidate our funds in a safer place and allow me to buy advance bus tickets from California to Florida at a discount for our return trip.
6:30am
The rain has lightened up to a drizzle so I decided to boil some water and have a cup of coffee with fruit cake for breakfast.
8:00am
The rain has returned with a vengeance. Buckets of water are being poured over the tent and the wind is whipping around at gale force.  I'm glad I decided to stake all the guy lines of the tent securely but even with this added support, the tent is thrashing about.  I'm worried about the IPad getting wet so I just slipped it into a watertight map case.  This is the second big storm I have been in since arriving in Australia. Unlike the first heavy rain, this one is cold and the wind much more fierce. Thunder and lightning is crashing all around me outside. One thing for certain, this is definitely a test of the effectiveness of the Terra Nova tent systems.  The rain is coming down so fast that the ground has about three inches of standing water around the tent.  The water has made its way between the ground cloth and the tent floor so I blew up my Thermarest mattress all the way and it is actually floating on the water through the tent floor. I've moved all my stuff up onto the mattress to keep it dry. There are bright flashes of lightning followed very closely by loud thunderclaps. This is a really bad storm.  There's no telling when it will ease up. All I can do is hunker down and wait it out.
9:00am
The caretaker just drove down to the tent site to offer me a dry room under the pavilion area of the show grounds.  I told him I was doing alright but he said "I don't know how because you're sitting in the middle of a bloody lake out here!"  So far it is only a 3″ deep bloody lake so, here's hoping!  If the rain lets up for an hour or so this water should drain off but it doesn't look like it is letting up. The weather station on the radio calls this "scattered light showers" I'd hate to see what they consider a hard rain. So here I sit perched on top of my tiny life raft mattress listening to nature unleashing it's worst outside the tent.
10:30am
The rain has finally turned to a soft drizzle and the flood is subsiding. Besides a few small puddles inside the tent from condensation, it is mostly dry. Hopefully the standing rain water will soak into the ground before the next bout of hard rain hits. The sky is dark with rain clouds. I had cooked the remainder of lamb sausages last night so they would keep longer so I'll eat a few cold lamb hotdogs for lunch. I can't chance using the stove while the outer door is zipped for fear of carbon monoxide poisoning. When the rain has stopped for good I plan to cycle up to McDonalds and check for new emails.
4:15pm
The rain has finally stopped and the sky is a clear blue. All clouds have passed overhead but the forecast still calls for continued rain through tomorrow. Either way I need to remain here until William wires the money because I doubt I will find a spot closer to Sydney which has both a Western Union office and a McDonalds WiFi for this low of a price. The logistics of bicycle touring can be complicated at times. I am recharging the Anker battery to use it to recharge the IPad. Australia has its own electrical plug/outlet configuration like most countries so I had to purchase yet another adapter.  I'm getting a bit bored just hanging around the camp but this place is quiet and I am not bothered by the usual curious tourists and their questions. I've had a lot of time to think.
6:00pm
I went up to McDonalds and received an email from William with Western Union information so I went back to the Western Union office but a sign on the door said closed for holiday April 25. This is Australia's version of veterans day and everything was closed for a three day weekend. The Western Union will not be open again until Monday at 9:00am. The weather forecast is for rain through Sunday so I suppose it is best to stay put until then. After that the plan is to enter the national forest so I'll be out of touch with WU offices as well as WiFi after that.