It is January 1st, 2015, New Years day. I am seated in a small one room cold water flat located on the island of St Thomas in the US Virgin Islands. This is paradise and the living is always easy here. Cool ocean breezes and a constant day/night temperature hovering around 80F year-round makes dealing with weather issues inconsequential. The island is green and lush. Bright sunny days dotted with occasional warm tropical rain showers create an atmosphere of joy and relaxation.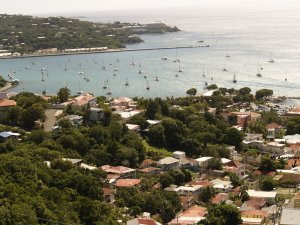 The island is smiling and seems to project a "Don't worry, be happy" vibration. The nights are filled with the sound of laughter and calypso music, sometimes morphing into Cuban congas, sometimes morphing into reggae but always lively and festive.
People speak to each other in Virgin Islands Creole English, Caribbean Spanish, French, Creole and a wild mixture of those languages. Although the official language is English, it is only heard occasionally in areas where tourists frequent. I don't speak much. Too many years spent on foreign soil has taught me to get by on basic sign language and a smile. The island has a foreign feel to it. The craziness of mainland US is absent. The hustle and bustle, the mad consumerism and the faint hum of electronic media-laced airwaves is absent here. When the music stops the island is still and quiet with only the crowing of feral roosters to break the silence of the night. Televisions are rarely seen or heard but rather, people choose to congregate on porches and balconies at days end to chat quietly with their families and neighbors.
St Thomas Virgin Islands, a good place to chill, clear the cobwebs and breath freely. I will call this place home for 2015.