Anker Astro 3 External Battery – The answer to power problems while bike touring.
Modern communication devices use electricity, which is sometimes a rare comodity while bike touring. Various techniques have been used to accomplish the task of keeping cellular phones, tablets, laptops, MP3s and cycle computers fully charged without needing to find a wall jack and then having to sit around for hours watching your stuff charge. Each of these techniques had their downside; either they did not charge all devices properly, they took too long to charge, the cost was prohibitive or they were too complicated for the average person to operate under rough conditions. Some of the better solutions involved soldering and advanced electonic techniques. Until now: The newest version of the Anker External Battery (Astro 3) has been updated to be compatible with and charge all Apple products including Ipads, Ipods and Iphones using a special new port (USB Outlet Port I). It also can charge Samsung Gallaxy and similar devices using the (USB Outlet Port S) and has an additional outlet port for devices such as laptops, digital cameras, camcorders, tablets and the like. The Anker Astro 3 has two voltage scales selected with a slide switch (9V or 12V).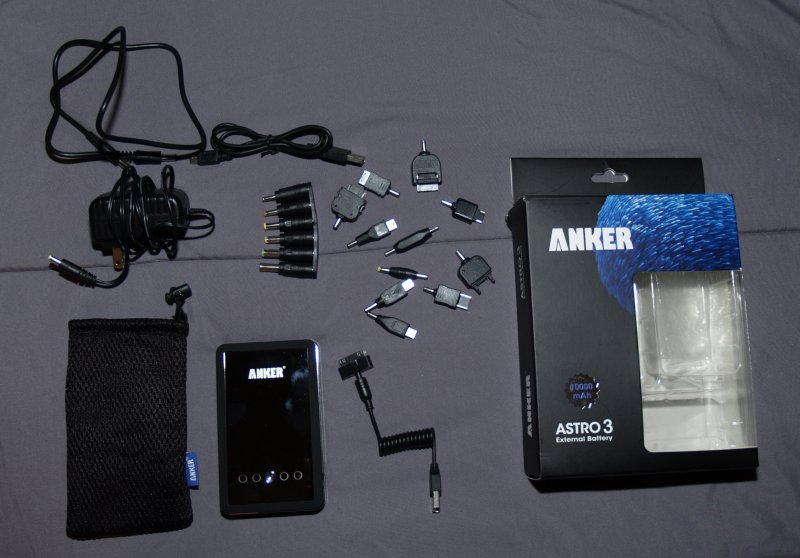 How well does it work? It works great! The Anker can be charged with any dynamo hub such as the Schmidt SON28 or the Shimano Alfine or it can be charged from a wall jack. Once fully charged, the Anker delivers incredibly fast (fill up) charges to your devices. Most cell phones can charge in less than an hour and it has been reported that you can get up to 10 full cell phone charges from one Anker battery charge. I tried it on my Ipad and was amazed at the charging speed. It was almost twice as fast as charging via the wall jack. The best part about the Anker Astro 3 external battery is the price. I picked this one up through Amazon.com for only $56.00 including shipping. As a stand-alone unit this battery pack would work fine for keeping a cell phone and MP3 player charged up for close to a week but when combined with a good dynamo hub system, you may never need the grid again on that world tour.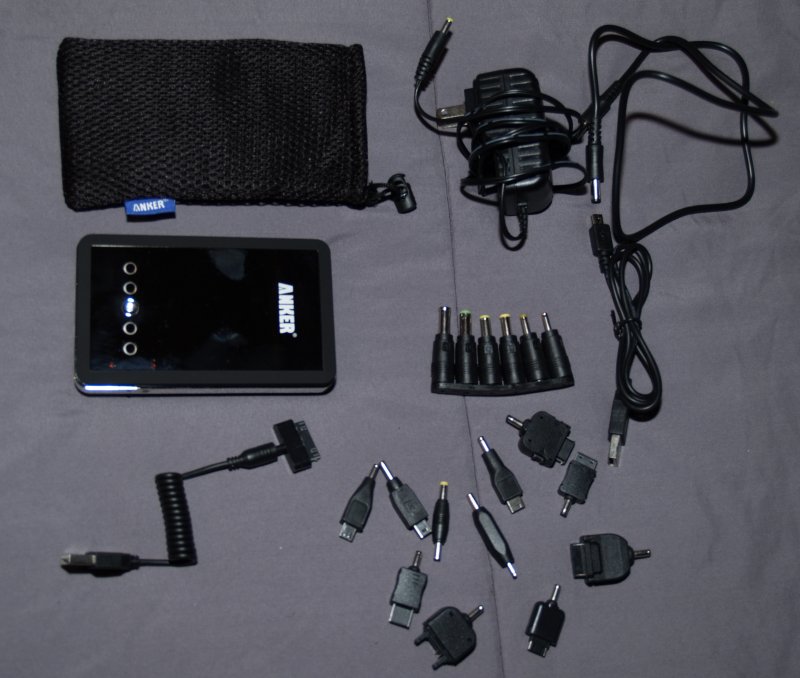 The Anker is 3″ wide x 5″ long x approx 3/4″ thick and it comes with a nylon net fabric bag so it can be protected from jarring and still stay cool. It also comes with almost every attachment plug known to mankind. A few may be missing like some exotic digital camera cable plugs but these can be found through your local Radio shack.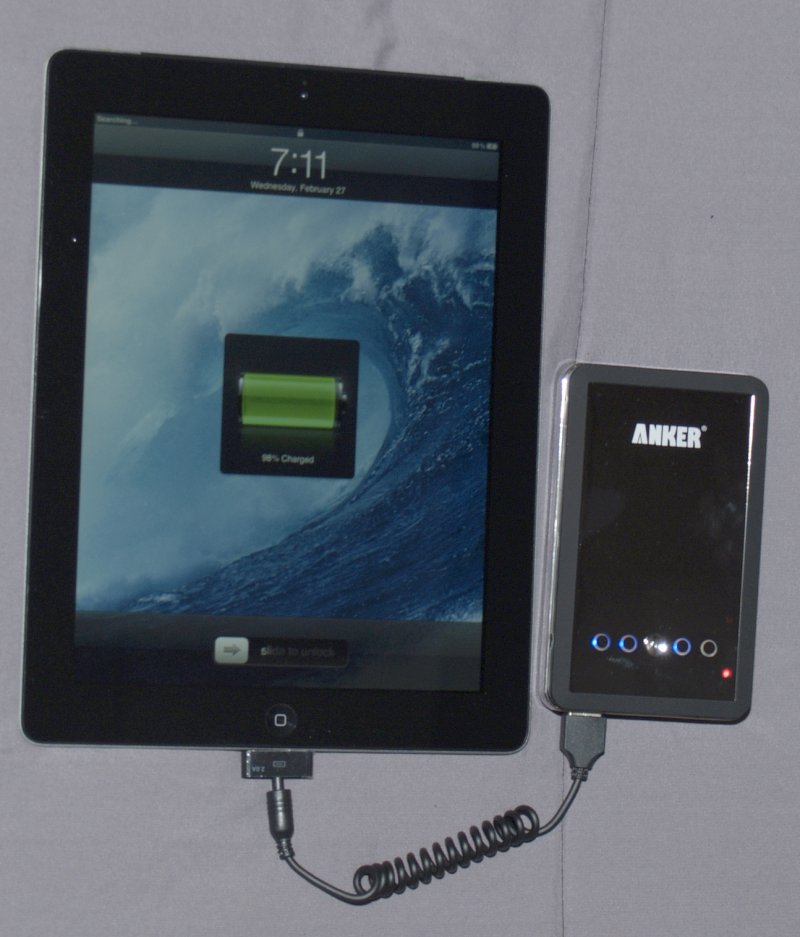 I give this unit a five star review because it is the missing ingredient in severing the cord of dependence to the grid. This is one of the greatest advancements in touring gear to come along in years. I like it!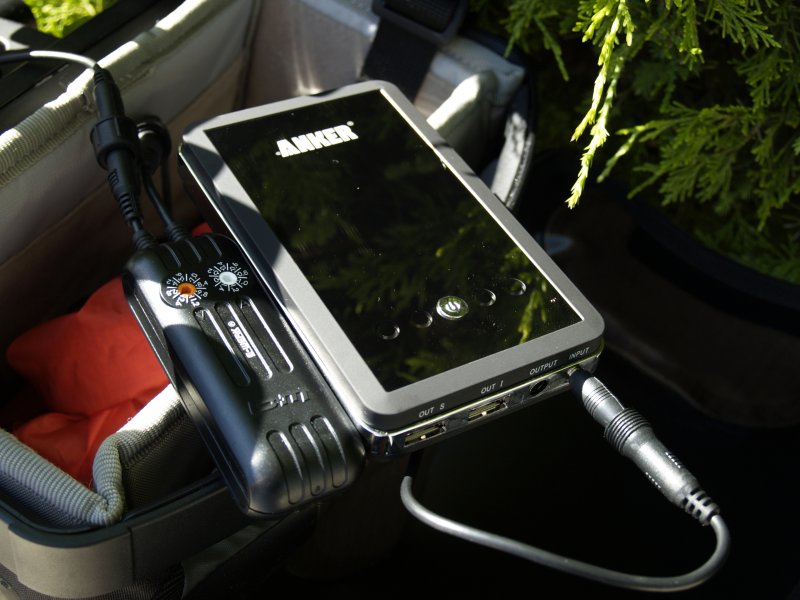 Update 05/05/2013: This Busch & Muller E-werk controller provides a continuous trickle charge to the Anker battery during long rides for use in the evenings for charging phones, MP3 or tablets while relaxing in your tent.
More Charging Options for the Anker External Battery
I frequently use a GoPro Hero 3 Black Edition camera for shooting video and still shots on the road. The camera was shipped with a USB cord which is the only method provided for charging it, utilizing a computer terminal. I have successfully charged the GoPro battery from the Anker external battery although I wanted a method of charging backup batteries for the camera while traveling. The answer…. Wasabi Power replacement batteries and charger. I picked up the two battery and charger set on Amazon.com for $23 US and was pleasantly surprised to find that the wall charger had an input for a 12 volt adapter. As seen in the photo below, this works perfectly with the Anker recharging system. So now I will always have a couple of backup batteries ready for the camera. NOTE: The Anker charges even while being charged itself via the E-werk/Son 28 Dynohub system.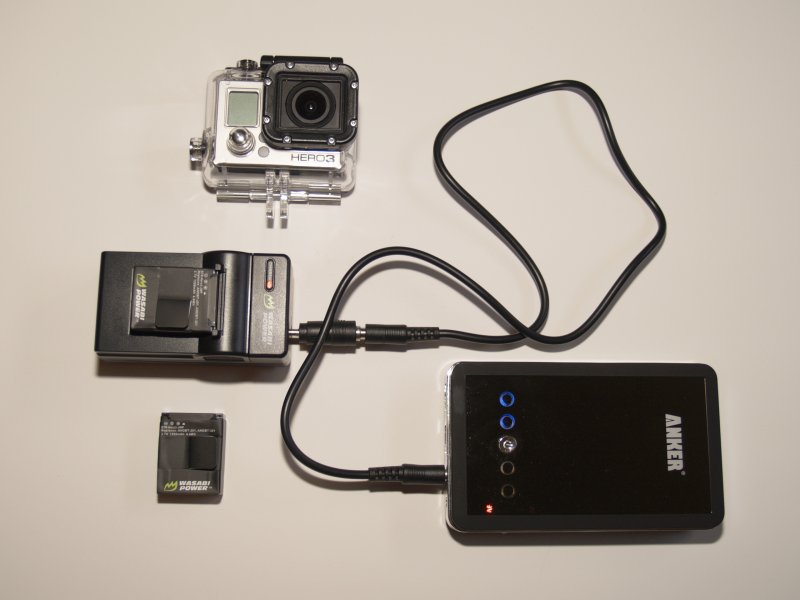 Another discovery I made lately was the SANYO Ni-MH Battery Charger USB. This handy item allows the charging of AA and AAA rechargable batteries via a USB plug which works handily with the Anker external battery as well. I use AAA batteries in our Black Diamond Storm headlamps while in camp. Thus the final piece of the "Power Puzzle" falls into place severing my dependence on grid power (drum roll please) …….FOR EVER! (cymbal crash)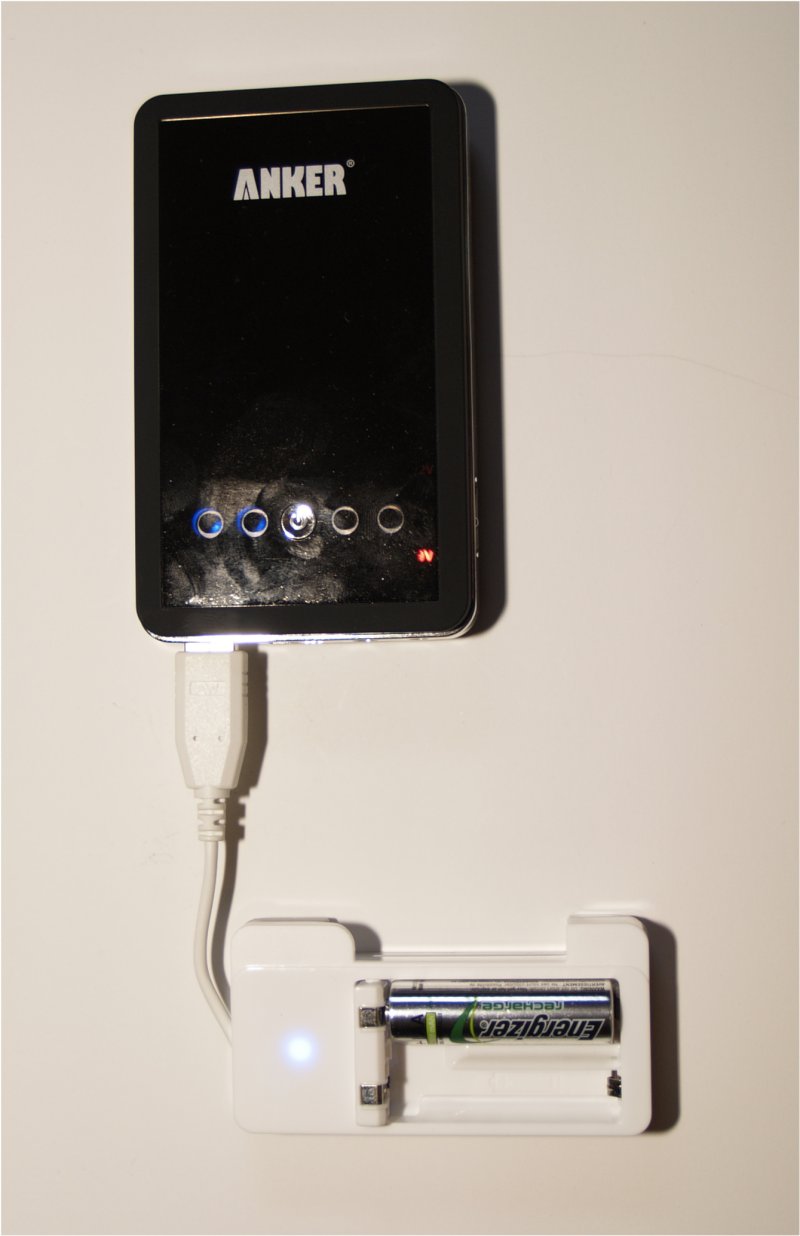 I'm finally trading in my Olympus E1 SLR camera for the light weight GoPro Hero 3 HD Black edition. Besides taking up way too much room in the panniers, the Olympus was an anvil to haul around. It did take nice photos though ….. I'll give it that. 🙂 Here is a shot of the GoPro mounted on my handlebar extension.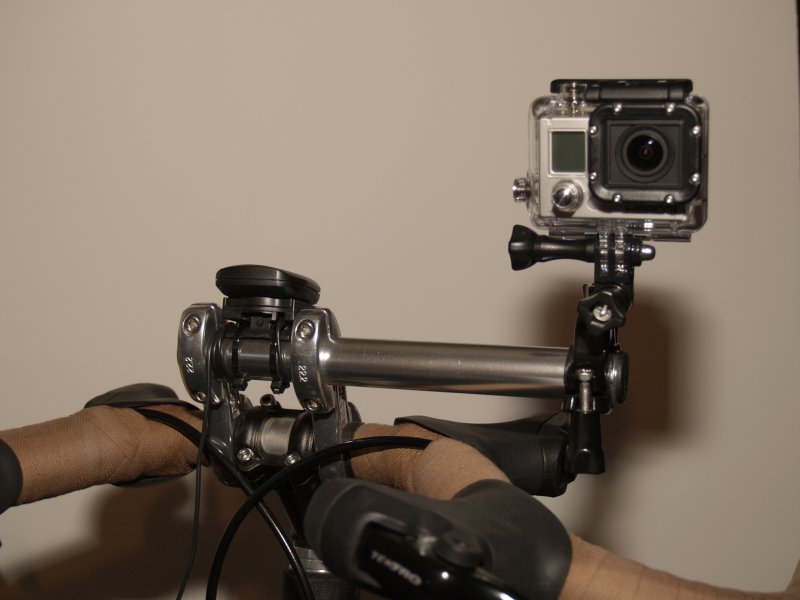 When off the bike the GoPro rests on top of a Manfrotto Monopod to steady the shots. This is also good for elevating the camera for hard to get photos & video. It can be held out over the Grande Canyon for example.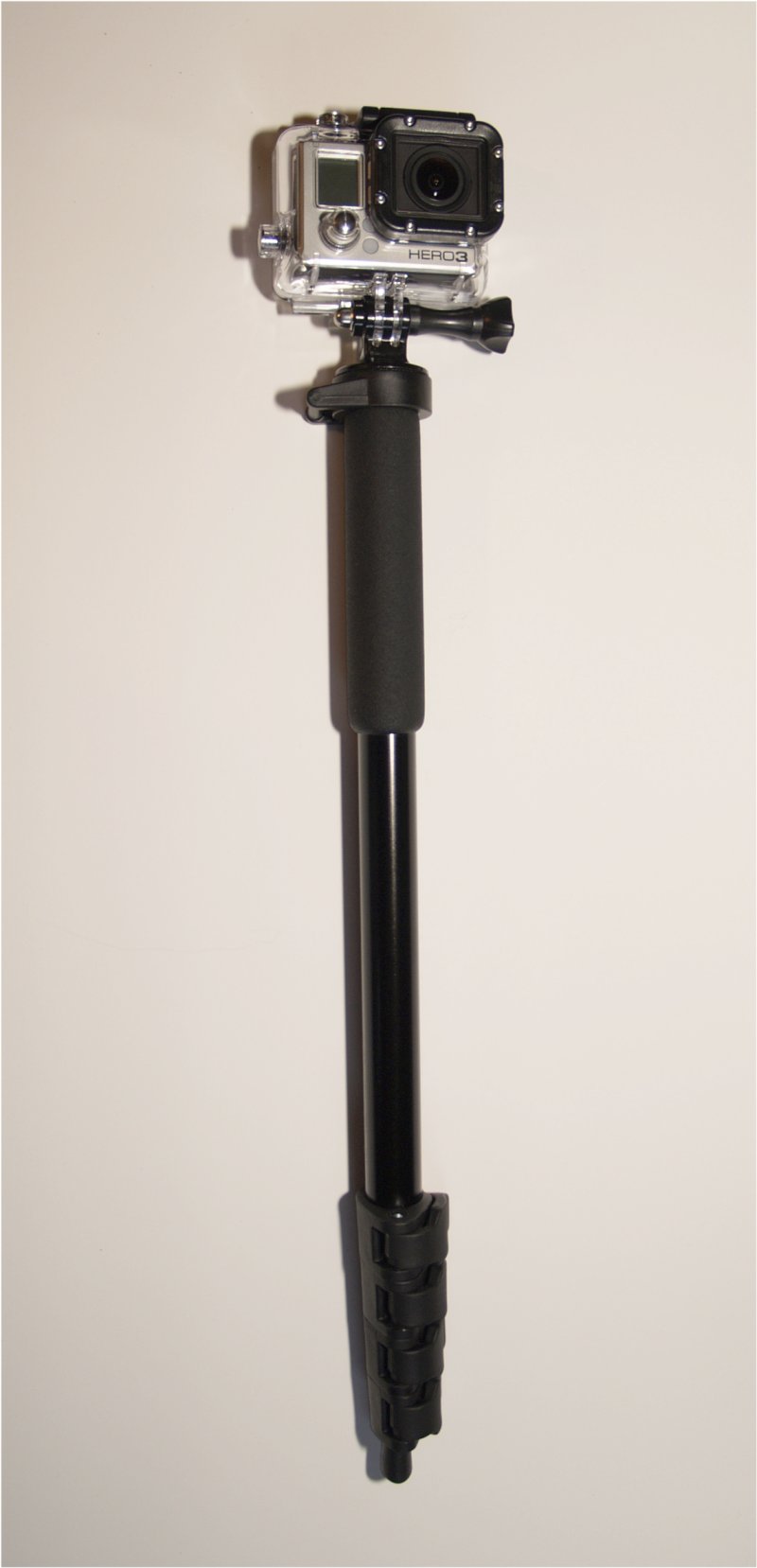 I play around with different filming angles. Below is my helmet-cam setup. I also have a GoPro mount on the top of the Extrawheel Trailer to film action behind the bike. Well that's it for todays gear update.