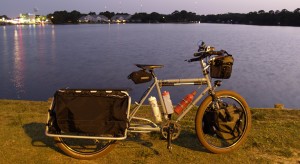 There is an online tendency for some to view the Xtracycle FreeRadical as simply an aftermarket kit that should be delegated to antiquated "donor bikes". Many consider the FreeRadical to be a "primer" cargo bike for use during a trial season before stepping up to a serious "dedicated long-tail framed bicycle". Concerns over frame stiffness and weight issues abound along with the fear that a bolt may become loose and cause injury to the rider. I'm here to assure you that this is all a load of horse shite written by prima donna "bike experts", many who may have never swung a leg over a cargo bike. To call a FreeRadical kit inferior to a dedicated long-tail frame is kin to claiming that an integrated rear rack on a bike is somehow superior to a bolt-on rack. It is this ability to bolt-on the extension that makes the Xtracycle valuable in the real world. I have owned two dedicated long-tail cargo bikes and an Xtracycle/LHT and can state that not only is there very little difference in the ride quality, the Xtracycle has the advantage of disassembly for shipping. As for the "loose bolt" argument; That's what a wrench was made for.
I once had the misfortune of having to bus a Sun Atlas Cargo long-tail a few hundred miles at a cost of almost $300. If this bike had been just a few inches shorter or if I would have had the ability to disassemble it, it would have shipped for free as part of my regular baggage. This incident had a major impact on my future choices in bicycles. On my next bike build I opted for a Surly Trucker Deluxe frame with S&S couplers so I would never have this same problem again. This bike saved me thousands of dollars in airline baggage fees over the last two years and I have never regretted paying the extra few hundred bucks for a frame with couplers. However, I did miss touring with the convenience of a long-tail so I added a trailer to my setup. This was not the same as a cargo bike. Sure it gave me more packing space but it was much longer and harder to maneuver and I could definitely feel the weight on steep hills. So I once again returned to the drawing board to come up with what I envisioned as the perfect long distance touring bike. At first I thought that adding S&S couplers to a Big Dummy frame might do the trick but even after the bike was broken in two it still would only be able to fit into a standard bicycle box. Adding additional couplers to the chainstays and seatstays would not only be very costly, it would also compromise the strength of the frame. What was needed was a chromoly steel extension with reinforced bracing that was easy to bolt on. It had to be lighter weight than a trailer but allow for a similar payload. Then it hit me, this item was already in production right under my nose….. the Xtracycle FreeRadical.
I ordered the FreeRadical kit from BikeTrailerShop.com and a few days later I held the answer to the problem in my hands for less money than an S&S retrofit would cost.
The finished bike rides like my old touring Long Haul Trucker but with a bit more suspension on rutted roads thanks to the Schwalbe Fat Frank 2.35″ tires. It also tracks straighter due to the longer wheel base.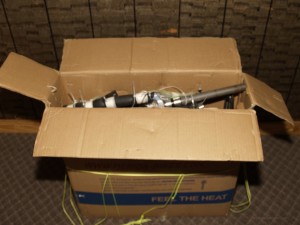 A novice bike mechanic can disassemble this bicycle and pack it into two small airline checked-baggage sized boxes. I use a 28″x26″x8″ box and a 46″x7″x9″ box; both within the 62″ total L+H+W requirements and have extra space for panniers. I pack my tent and sleeping bag in a carry-on duffle. When arriving at the destination, it takes me about two hours to reassemble this bike.
In summary, I view the bolt-on aspect of the Xtracycle FreeRadical as a positive rather than a negative feature. I give it a five star rating.