The importance of balanced pannier packing on a touring bicycle cannot be underestimated. The vibration from an imbalanced load will take its toll in premature bicycle parts wear and rider stress levels. A well balanced load, however, will pay off in peace of mind and time saving equipment maintenance.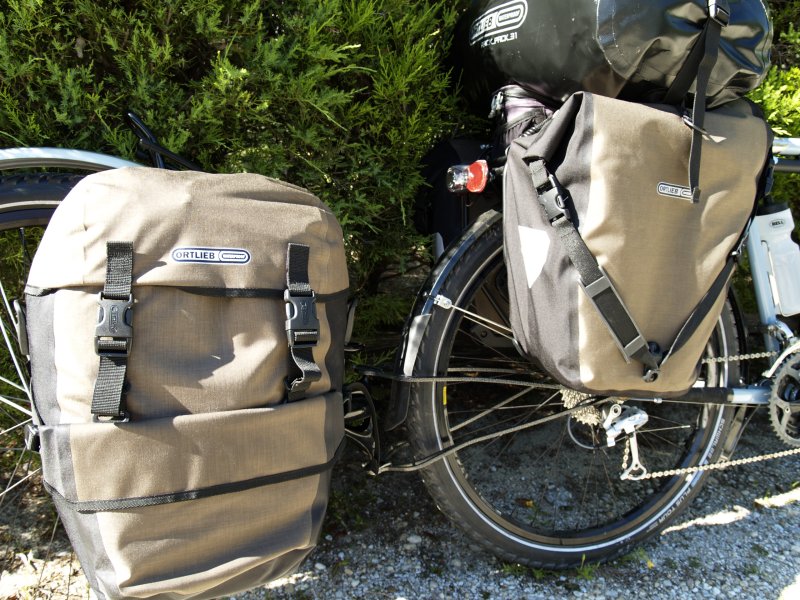 Every experienced rider has his own method of packing a kit for the road. This is the way that works for me. First item needed is a good scale. Some use a bathroom scale or a baby scale, I like to pack my scale along with the panniers in case of a major reorganization of equipment on the trail and for this reason I opted for an inexpensive and fairly light weight digital fish scale. These can be found in any sporting goods store or even a local Wal-Mart. The scale features a metal hook on the bottom to attach to the item being weighed and a loop handle on the top to either hand hold or to hang the scale from a nearby tree branch.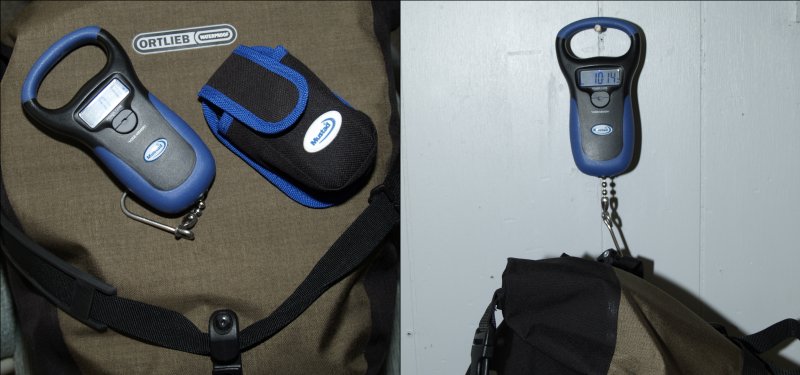 Using the scale is straight forward…just slip the hook through a pannier rack loop and slowly lift it off the ground. You get a digital readout in either pounds or kilograms. Simply adjust each pair of right/left panniers to within 5% of each other to balance your load. For example, on my Extrawheel trailer I use Ortlieb Bike Packer Plus panniers. The right (drive-side) pannier weighs 20lbs, 4oz and the left pannier weighs 20lbs, 8oz. In a pinch I could run with 19lbs on one side and 20lbs on the other side, or a difference of around 5% with no noticeable imbalance. For my riding style, (which uses a trailer and bike panniers), I like to carry up to 40lbs on the trailer, 30 pounds total on the rear bike rack (15lbs each side) and 20lbs on the front bike rack (10lbs each side). Add to those 5lbs for a medium rack-pack bag for fluffy items and 5lbs for a bar-bag with electronics and lunch and it gives me a total of 100lbs of allowable carry space. This is not to say that I would carry this much gear but it is nice to have the added space if needed for an extended trip.