Following the Travels of a Modest Pot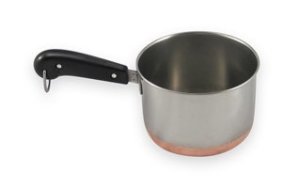 My twin sons recently left Northwest Florida for Paris with the goal of joining the French Foreign Legion but that's another story all together.  Before the flight, they hurriedly tossed many of their prized possessions into a large cardboard box and paid the US Postal Service quite a sum to have these articles delivered to me in the Virgin Islands for safe keeping.  When the parcel arrived I unpacked it and in the center of the jumble of stuff I spied an old pot. What tha????  "Why would these guys waste good money shipping this old thing?" I thought to myself just before noticing a note taped to the inside of the pot with the message (Important! Read this first.)  I opened the folded paper to find a crude cartoon drawing of myself holding the old pot and exclaiming "What tha??? Why would those guys waste money shipping this old pot?"  The cartoon was followed by an explanation that this was our best pot and worth the trouble.
This morning, after heating up a pot of beans to have with a couple of eggs, I stopped to contemplate the pot.  I realized that not only was it a very good cooking vessel, but it was the only physical connection I had to my past.  This pot was truly an heirloom and of extreme historical value.
*Fade in to a bustling city street during the roaring 20's in America's largest city.*
Shortly after the Great War (1914-1918), my grandmother  immigrated from Germany to New York to escape the growing anti-Semitic atmosphere in Europe.  She met and soon married my French Grandfather around the year1920.
My mother was their second daughter born in 1933 in New York city.   When she was seven years old her parents purchased a nice home in Bayside New York and began outfitting it with the modern conveniences of the day.  Among these was a set of the prestigious "Paul Revere Ware" copper bottom stainless steel cookery sporting modern "Bakelite handles" which was a byproduct of the war and predecessor to modern plastics.  One of the pots in this set was the same 7" saucepan  that I now hold in my hands.
* Cut to the year 1951.*
The Korean War was ramping up and the streets of New York were filled with soldiers.  A young 18 year old city girl met a handsome soldier from Iowa in a Manhattan pub.  Before shipping out to Korea, the two were married and I was conceived.  I was born in 1952 and my mother decided to move us to upstate New York to await my fathers return from war.  My grandmother put together a starter box of pots and pans from her kitchen and one of these was a well used 7" saucepan out of the original "Revere Ware"  set of 1940.
My mother eventually moved out to California and took the pot with her as part of her household items. She lived in several homes ranging from a modest ranch house to extremely opulent multi-million dollar mansions in the LaJolla hills and made a fortune in the booming California real estate business from 1968-1980.  The pot moved with her from one location to another.  In 2003 my mother developed a bad case of dementia at the early age of 70 and was no longer able to care for herself.  I traveled from Colorado to pick her up along with a U-haul trailer loaded with belongings.  The pot ended up in a Colorado farm house for a few years and then was loaded onto a 40 foot "Pace Arrow" motor home for a three year Emu Oil "Medicine Show"  traveling the Southwestern United States.   From there the pot moved to Dateland Arizona desert,  Darwin California desert,  Taos New Mexico high desert before being loaded into a 33 foot travel trailer bound for Coleman Texas.  In 2011, the pot traveled in the bed of a Silverado pickup truck along with myself and my twin sons to Ft Walton Beach Florida where it resided until January of 2015 when it was mailed to St Thomas in the US Virgin Islands.
I hold this old pot in my hands.  It is just as useful today as it was 75 years ago.  Countless scorching has not marred the surface and to be honest, this is still my favorite "go-to" pot.  But I've come to realize that this is more than just a good saucepan.  I have no photos of my grandparents or mother and father.  My nomadic lifestyle has stripped all but the most essential items from my life and memorabilia was never deemed that important.  This pot represents the lives and travels of four generations of Americans.  Memories of places and people have faded but this pot remains as reminder of my heritage.  It's strange the way the simplest item can be a conduit for history.  If nothing else, this is a testimony to a very well made cooking vessel and an American company. Unfortunately, the Revere Company went out of business in the late 1990's. The name was purchased and the new company makes Revere Ware products that look similar but they are not nearly as good as the originals.
My sons saw value in this old pot so I will honor their wish and safely hold it until the day they come to collect it. With any luck, this pot will get another 75 years of use by my descendants.  An icon is born!