Quite possibly the best cycling helmet in the world.
The controversy over whether to wear a bicycle helmet or not may never be resolved. I personally began wearing one due to the differences in domestic and international laws. It seemed like I was forever crossing borders to be informed of local helmet laws so wanting to always be in compliance, I decided to don protective headwear religiously. In the beginning I certainly did not believe or even consider that the flimsy Styrofoam bicycle helmet was actually protecting anything but my privilege to ride through areas with harsh laws in place. After nearly 15,000 miles of bicycle travel I have changed my opinion on the validity of helmet use. On three separate occasions I was involved in a wreck, none of which involved motor vehicles but all of them involving my skull coming in contact with the pavement at relatively high speeds. These episodes have convinced me that a helmet is a good idea. This is especially true if you tend to ride as I do; fast and hard.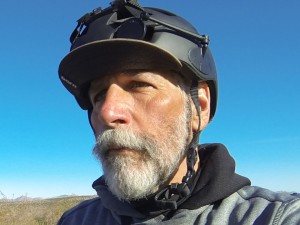 Once I started viewing bicycle helmets as a necessity rather than simply a prop to avoid legal hassles, the construction and fit became just as important to me as any other part of my bike. For the past 10,000 miles of touring I have used a Bern Allston helmet. Not only is this a most comfortable fitting helmet sitting low over my ears but it is also cool with 16 holes to allow a breeze to flow over my head. In addition, the Allston is one of the best looking and least geeky helmets on the market. They are also very tough. Mine has been through the wringer and still functions perfectly. In the event that you do wear out an inner lining, replacements can be purchased separately for either summer or winter use. The stock Allston helmet sports a cap style flip-up visor for sunny rides but BERN also sells a snap-in winter knit liner for cold weather.
The Bern company has been manufacturing quality helmets for extreme sports for many years, however the Allston is the first bicycle specific model they have produced. At 13 ounces, the Allston is one of the company's lightest helmets and has 50% greater ventilation than their popular Brentwood model. This helmet was built for 4 season touring cyclists and commuters.
The Bern Allston helmet is a winner in all areas and I give it the full five stars.


The BERN Allston comes in several sizes and colors. You can get additional information on the BERN website http://www.bernunlimited.com/allston/